Here at Performance Auto Glass we take all the extra steps to ensure a safe and proper auto glass installation.In this section, you should know the following about us: Our company was established in 2006 and has been responsible for providing outstanding auto glass replacement ever since. Our specialty is in the best and safest autoglass replacement and repair at the best mobile or in shop installation price available. All our auto glass products from Windshields to Tempered doorglass from small vent windows to large Freightliner windshields are all built to OEM vehicle standards or better.We make certain to prep each windshield correctly buy cleaning and "Flashing" the outer edges to ensure a proper seal the first time. We also use top of the line removal and installation tools to minimize time of installations so we don't tie up your day.

WE WANT TO TAKE SOME TIME TO EXPLAIN WHAT AN IMPROPER INSTALLATION LOOKS LIKE AND SOME THINGS TO REMEMBER WHEN YOUR GETTING A WINDOW INSTALLED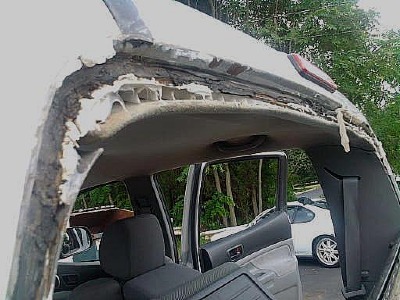 This is a back glass on a pickup that was brought to us by a customer who purchased a vehicle with a aftermarket glass installed improperly, and as a result it leaked.In this situation the back window has to be removed and we inspect the urethane which is the glue used to hold the window in place and prevent leaks. (the black on the center of the pinchweld is where the urethane is).What we want to point out to your attention is the rust on the inside top pinch weld.

This rust is caused by a scratches made with removing the the glass which is inevitable but should be covered with a rust preventer called primer and in this case there was none applied.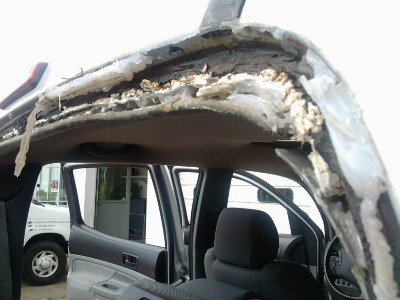 In this photo we want to point out to you the white and clear BATHROOM caulk along the headliner and top of pinchweld.That was used as an attempt to seal a leak issue.Upon removing this window we immediately notice that the proper urethane was applied with "breaks" in the lines which is a sure shot reason why this window leaked.

In this instance all of the uneccessary adhesive and glue was removed the pinch weld was scrapped to a flat surface with no flaps primer was applied along the pinchweld and the window was installed the correct way.